The famous banquet of Sound & light of Cléry !
Relive the atmosphere of the liberation in a banquet of 500 dinner guests.
A menu specially designed for the opportunity from recipes of time.
Animations and surprises throughout the evening.
Cassis White Wine
Resistance block
Country poultry and tubers of Beauce
Maquis Cheese
French toast
Chicory coffee
July 26th, 27th and Angust 2nd, 3rd at 07:00 pm.
Prices : adult 21,00 € - child (under 12) 10,00 €.
On reservation only.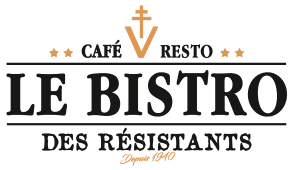 The team of the Bistro des Résistants welcomes you in the entrance of the park.
Sandwiches, French fries, boards of delicatessen, desserts, drinks, etc....
Menu from 09,00 €.
Open every night show's evening
From 07:00 pm to 09:45 pm and from the end of the night show to 01:00 am.
Download the card